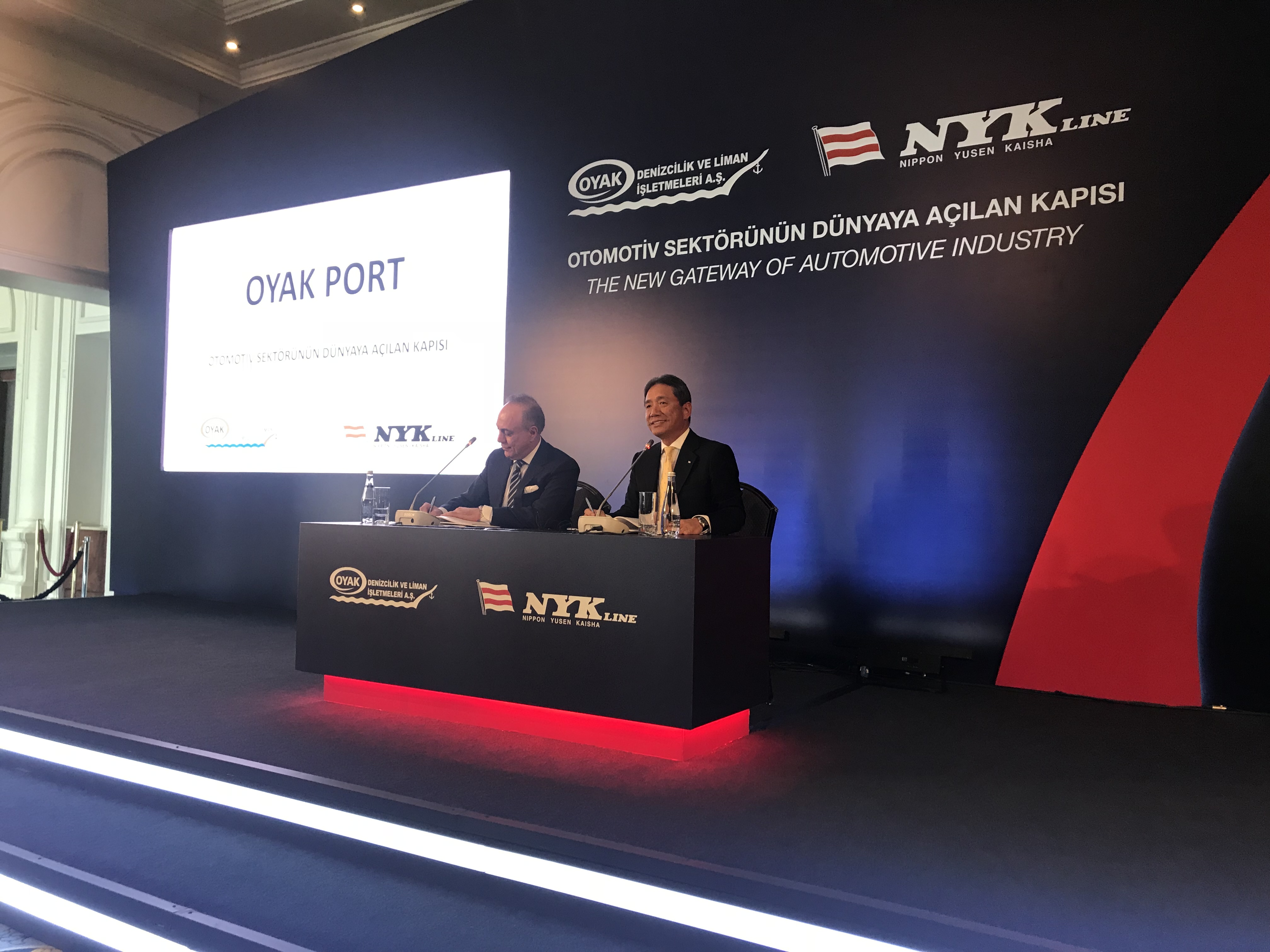 OYAK Maritime and Port Management INC. decided to invest in 'automotive-oriented Ro-Ro port' with Nippon Yusen Kaisha (NYK Line), which is one of the most well-established and largest shipping companies in the world. On April 5, 2018, the signing ceremony was held with the participation of Mr. Cem AYSEL, General Director, and Mr. Süleyman Savaş ERDEM, General Director of OYAK. The automotive port, whose construction is to be begin in 2019, is planned to be put into service by 2020. OYAK Port, which will be one of the world's leading ports with its standards and capacity after becoming export and import gateway of international automobile brands, will employ about 1000 employers. The port will be constructed on an area of 235 thousand square meters situated on the Yarımca region in the Körfez district of Kocaeli province, and will provide service for only the automotive sector with an annual handling capacity of 780 thousand vehicles.
Mr. Süleyman Savaş ERDEM, OYAK General Director, speaking at the press conference of OYAK Port on April 5, 2018, stated that the OYAK Port is intended to be the center of international logistics traffic. Stating that OYAK Port would be the hub of logistics distribution center (hub) between east and west, Erdem also added, "As a result of our negotiations with the leaders of the international automotive trade, we realized that the automotive sector, being the export leader with a share of 21 percent, needs a port in global standards and with a high capacity. OYAK, known for its investments devoted to our country's needs, has always shouldered responsibility as necessary and today, we are proud of providing a brand new added value to our country."
Koichi Chikaraish, Head of NYK Line Automotive Group, stated that Nippon Yusen Kaisha is extremely excited to build their 17th automotive port in Turkey, and they had been looking for investment partners in Turkey since 2014; and after negotations of two years, they came to an agreement with OYAK. Chikaraish said, "The fact that OYAK is one of Turkey's most established and powerful groups impressed us. Today, I'm proud to sign this agreement. I wish our cooperation we commenced with OYAK Maritime and Port Management INC. today will continue by getting stronger each day."